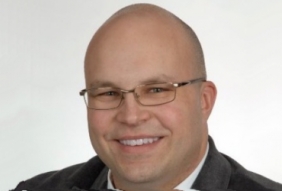 Mike Madole, Director, Information Technology at Terrapure Environmental
Posted on March 21, 2016
Terrapure Environmental, a leading Canadian environmental solutions provider to industry, today announced it has acquired Consolidated Giroux Environment Inc. ("Giroux") of Charlo, NB. The purchase includes all assets, including buildings, vehicles and equipment, as well as Giroux's employees and existing customer relationships. Terms of the deal were not disclosed.
Since 1972, Giroux has provided industrial dredging services primarily to the mining, municipal and pulp and paper sectors and is recognized for its high quality and efficient service delivery; specialized, well-maintained equipment; and skilled, experienced operations people.
"This acquisition significantly bolsters our capacity to provide onsite dredging services to customers in our key target industry sectors across Canada," said Todd Smith, Vice President, Environmental Solutions – Onsite at Terrapure. "By gaining access to Giroux's customer base, particularly in the mining sector, we can also expand the suite of services we offer these companies to assist them with a broad range of environmental challenges, including dewatering and recovering metals and other resources from their waste streams."
Giroux is a respected player in the field of industrial dredging. In addition to expanding Terrapure's current activity in the mining sector, the company expects to benefit from an expanded reach and capacity to provide onsite environmental services to customers in various industry sectors across the country.
Additionally, Giroux is well known for its highly skilled personnel. "The team at Giroux is renowned in our industry for their exceptional operating expertise, particularly in the mining sector," said Smith. "We are very pleased to welcome them to the Terrapure family."
"Our employees are excited to join Terrapure and its extensive network across Canada," said Don Brimsacle, General Manager of Giroux. "In doing so, we will significantly extend the depth and breadth of services we offer to customers, while expanding the opportunities for our people to grow with a dynamic, industry-leading organization."
About Terrapure
Terrapure Environmental is a leading Canadian provider of innovative, cost-effective environmental services and recycling solutions that help address industry's most complex environmental challenges. Headquartered in Burlington, Ont., Terrapure employs over 900 people and operates an integrated network of over 30 government-regulated facilities from coast to coast.
With an unwavering focus on health and safety excellence, the company provides services that minimize waste and maximize the recovery or recycling of valuable industrial by-products through its facility network and on customer sites. This includes a used lubricating oil re-refinery in North Vancouver, B.C.; Canada's largest lead-acid battery recycling facility in Ville Ste-Catherine, Que.; an engineered non-hazardous industrial waste landfill in Stoney Creek, Ont.; as well as operations that enhance the environmental sustainability of industry sectors, including automotive, chemical and petro-chemical, manufacturing, marine, mining, municipal, pulp and paper, and transportation.
For more information, visit www.TERRAPUREenv.com.