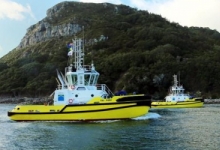 Posted on July 27, 2015
By Simon Hartley, Otago Daily Times
Port of Tauranga dredging work is set to start, which will allow the port to accommodate larger ships.
Danish dredging company Rohde Nielsen has won the tender. Port of Tauranga is deepening its shipping channels from 12.9m to 14.5m depth inside the harbour and to 15.8m outside the harbour.
Port Otago, which wants to deepen and widen its lower shipping channel for new, larger container vessels carrying up to 8000 containers, plans to dredge to a depth of 14m over less than 50% of the overall 13km long channel, using its suction dredge, New Era, and a new barge.
READ FULL ARTICLE HERE