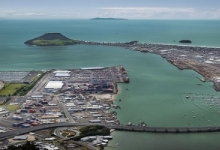 Posted on July 24, 2015
By Anne Hunter, IHS Maritime 360
Danish dredging company Rohde Nielsen has clinched the tender to carry out dredging works for Tauranga port's expansion.
Rohde Nielsen is to deepen and widen the access channels from 12.9 m to 14.5 m inside Tauranga's harbour, and from 12.9 m to 15.8 m outside the harbour.
Tauranga, New Zealand's biggest port, is undertaking the expansion works to consolidate its status by accommodating container ships of over 6,000 teu.
READ FULL ARTICLE HERE