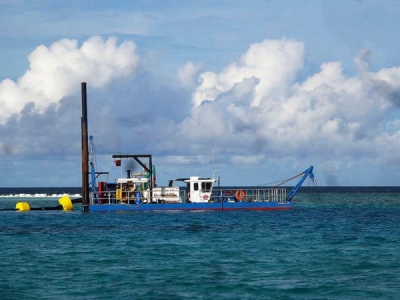 Posted on November 11, 2020
An Ellicott® 670 Dragon was recently used to complete a dredging project of Accabonac Harbor in East Hampton, New York.
The dredge was purchased by Suffolk County for inlet dredging, and was used to clear a spit of beach that had narrowed an inlet near Louise Point. East Hampton Town Trustees said excess material made it difficult for boats to navigate the inlet, and that local baymen had brought it to their attention.
The Ellicott® 670 Series is a portable cutterhead suction dredge that can be easily transported and assembled on site with minimal effort. This versatile dredge is ideal for any dredge owner or operator looking to purchase a vessel that is simple to use. The 670 is typically used for medium-sized navigational projects in locations such as small ports, rivers, and inland waterway dredging projects.
Trustees have had the area excavated in recent years, but the work offered only a temporary solution.
"(The excavation) was just a Band-Aid on a real problem," said Trustee Francis Bock, who said the dredging was necessary. The Ellicott 670 Dragon dredge opened up the boating inlet so business can continue without interruption.
Bock said that some residents were unhappy that the beach area was removed, but reminded them that the sand spit was not a swimming hole. He added that by next spring and summer, an even larger beach will be in place for residents to enjoy.
Source: East Hampton Star