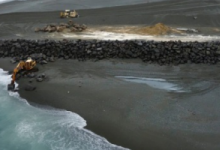 Posted on June 4, 2015
By Audrey Malone, Stuff.co.nz
A gravel beach has been formed at the south end of Timaru's breakwater by last week's storm, which thrashed the coastline.
PrimePort chief executive Phil Melhopt confirmed a new beach had been created as a result of the storm's handiwork.
However, he said gravel migration was nothing new and despite the port having to contract Rooney Earthmoving to clean up and maintain the breakwater, the cost fell under the usual business costs of an operational port.
READ FULL ARTICLE HERE