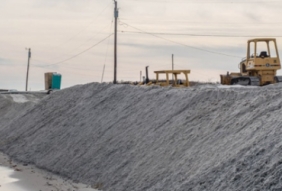 Dredging interrupted at Lobsterville Beach
Posted on February 8, 2016
By Alex Elvin, Vineyard Gazette
A major project to dredge Menemsha channel has hit a snag, missing its Jan. 31 deadline for completion and raising ire among Aquinnah officials over damage at the West Basin.
The unfinished dredging project will not resume until next fall, Aquinnah and Chilmark selectmen learned this week.
Bret Stearns, director of the Wampanoag tribe's natural resource department who has helped coordinate the Army Corps project, told the Aquinnah selectmen he learned last weekend that work would be on hold. The Army Corps estimated that only about a quarter of the project had been completed by the Jan. 31 deadline, which marks the start of the winter flounder season.
READ FULL ARTICLE HERE