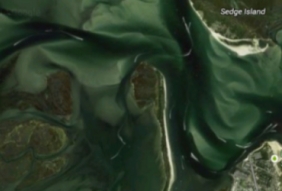 Posted on September 14, 2015
The state Department of Transportation has received permission to dredge three Barnegat Bay channels that lead to the Barnegat Inlet.
The agency had filed an application with the state Department of Environmental Protection to dredge the Double Creek Channel, High Bar Habor Channel, and the Barnegat Light State Channel, according to a report on thesandpaper.net.
The Department of Environmental Protection approved the application last month, the report states.
The three channels, which are important navigational linkages to the busy Barnegat Inlet, have suffered from severe shoaling since Superstorm Sandy.
A fourth inlet access, known as Oyster Creek Channel, also continues to suffer from shoaling. Authorities warned about the problem earlier this year.
Shoals are defined as a "characteristically long and narrow (linear) and develop where a stream, river, or ocean current promotes deposition of sediment and granular material, resulting in localized shallowing (shoaling) of the water," according to Wikipedia.
The dredging process will deepen the channels, resulting in safer navigation.
In 2014, the state announced the commencement of the multi-year, multi-million dollar channel dredging program, with the mission to return New Jersey's waterways affected by Superstorm Sandy to a state of good repair.