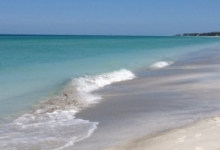 Posted on August 10, 2015
By Melissa Reid, Longboat Key News
Sunglasses will not be optional soon, when more bright sand is brought onto Longboat's beaches during the town's renourishment project.
In a July 15 memo, Town Manager Dave Bullock informed commissioners that the town has received the state permits needed from the Florida Department of Environmental Protection (FDEP) to renourish Longboat's beaches. Now all that's left to wait for are the federal permits from the U.S. Army Corps of Engineers.
"We now have DEP permits for New Pass dredging and sand placement, Longboat Pass dredging and sand placement, and the Central Island truck haul and sand placement. All projects are waiting on federal permits," wrote Bullock.
READ FULL ARTICLE HERE