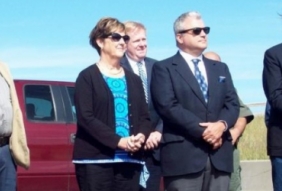 Posted on September 28, 2015
By Paul Gately, Wicked Local
The breeze was brisk and out of the east, and there were whitecaps in Cape Cod Bay Monday morning as state Energy and Environmental Affairs Secretary Matthew Beaton visited Town Neck Beach with a $1 million grant.
The funding will help offset the cost of bringing in sand to rebuild the Sandwich beach and dune system, a project long in the making to increase coastal resiliency and protect both homes and property.
Beaton told the gathering of state, local, and federal officials that the Baker administration is committed to addressing impacts of global change and sea-level rise as well as what Mother Nature has tossed at the Sandwich shoreline over the past three winters.
READ FULL ARTICLE HERE