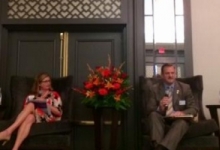 Posted on July 29, 2015
The debate may have been cordial, but the most recent discussion on the dredging of the St. Johns River made it obvious that opposing stakeholders are still nowhere near finding one unified solution for the harbor deepening project.
Representatives for the port, the St. Johns Riverkeeper, the Rodman Reservoir and the local longshoremen's union all gathered at the DowntownRotary Club's Monday luncheon to debate the pros and cons for dredging the river.
Jaxport CEO Brian Taylor said during the debate that it was the port's responsibility to explore every option that could reduce the cost of the project while still ensuring deepening happens.
READ FULL ARTICLE HERE