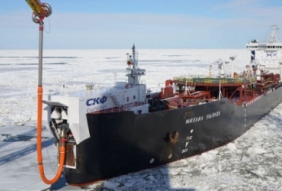 Posted on February 8, 2016
The Russian government is considering the privatization of seven major state-owned enterprises in a bid to plug budget gaps from plummeting oil revenue, with high-level meetings between company officials, government ministries and President Vladimir Putin himself. But of the many companies potentially up for sale, only one firm, shipping operator Sovcomflot, is a stand-out candidate for a speedy IPO, analysts and some Russian officials say.
At a meeting Monday, President Putin summoned the chief executives of diamond firm Alrosa, oil companies Rosneft and Bashneft, Russian Railways, state bank VTB, Aeroflot and Sovcomflot to discuss IPO plans. He placed limits on the possibility of the sales, telling the executives that the state must maintain control of strategic firms, that any buyers must be registered in Russia, and that "there shall be no sale of shares for a pittance." Russia experienced a wave of opaque privatizations at very low prices in the 1990s, resulting in concentrated asset ownership, and analysts suggest that the government wishes to avoid any appearance of the cronyism associated with past transactions.
Given the political hurdles and resistance within some of the companies – notably Rosneft, sources say – some are skeptical of the prospects for selling most of the firms.
"Looking at this long list, Sovcomflot is the only case in which I see a realistic chance," the head of a European bank's Russian office said.
The sale of Sovcomflot has been proposed (and opposed) many times before. Officials denied the possibility of a sale in 1996, and again in 1999. In 2011, RIA Novosti reported a plan to sell 50 percent minus one share by 2013, with part of the proceeds going to fund the construction of additional nuclear icebreakers; the company was wracked by turmoil and litigation at the time and swiftly reversed course. A new announcement of a partial sale came in 2014, and again in 2015, with the latest announcement calling for an offering of the first 25 percent of the firm in the first half of 2016.
That last announcement came as part of the government's 2016 draft budget, the only privatization deal formally planned to contribute to this year's state finances. Rosneft and Aeroflot were explicitly off the table. Federal Property Management Agency director Olga Dergunova confirmed in November that the Sovcomflot sale was the sole transaction planned for this year, and that it would raise about $200 million.
Not all agree that Russia's largest shipowner will be the first state enterprise sold. On Wednesday, Economic Development Minister Alexei Ulyukayev said that Alrosa, Rosneft and Bashneft are already listed on stock exchanges – making them the easiest to sell and likeliest to be first.