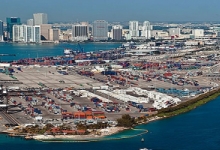 Posted on July 27, 2015
By Big News Network.com
South Florida's seaports are aiming to grow wider and deeper to accommodate larger container ships and secure a larger share of the increased trade expected to flow from Asia and Latin America following the launch of the expanded Panama Canal.
Port Everglades has received approval for a federally funded dredging project, 18 years after the proposal was first submitted, while PortMiami has already dredged to 50 feet to attract a new generation of New Panamax container ships.
The Port Of Palm Beach also plans to expand, but is facing opposition from nearby residents and environmentalists who concerned about the eco impact of a dredging project that would bring more and bigger ships through the Lake Worth Inlet.
READ FULL ARTICLE HERE