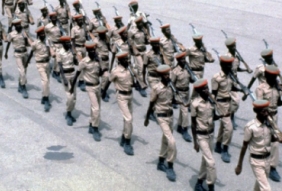 Posted on March 17, 2016
Somali al Shabaab fighters have seized a small port in the semi-autonomous Puntland region, the latest sign of a resurgence in activity by the Islamist militants in the Horn of Africa nation.
A series of offensives last year by the African Union force AMISOM and the Somali National Army had driven al Shabaab out of major strongholds in the southern region of Somalia.
At the time, officials said some al Shabaab fighters had moved north to the Puntland region, beyond AMISOM's area of operation. In recent weeks, al Shabaab has also retaken smaller towns and launched deadly attacks in the southern region.
"Al Shabaab fighters with several boats captured Garad town," Hassan Mohamed, governor for Mudug region of Puntland said, adding that the attack took place on Monday. "We do not want to say publicly how we will react."
The head of the local authority in the port town of Garad, Abdinur Abdullahi, said that al Shabaab with foreign fighters had met local elders, saying they would "capture many places and fight non-Muslims."
"Most of the residents have fled," he said, adding al Shabaab had been building up forces in the Galgala Hills, echoing comments previously made by officials in Puntland.
There was no immediate comment from al Shabaab.
Garad is a former haven for pirates, who had used the natural port to mount raids on commercial ships passing along nearby shipping lanes leading to and from the Red Sea.
An international naval effort has largely driven the Somali pirates away. There have been only a few reports of hijackings in the past two or three years, mostly involving fishing boats not the major tankers or commercial vessels targeted before.
"Without any gunfire, we were surprised to see al Shabaab fighters here," said resident Mohamed Abdullahi by phone, before phone lines were shut off.
Al Shabaab also controls Haradhere, another port town in Puntland. Residents said that a curfew was imposed on that town on Sunday night that was followed by unusually active movement in the port, fuelling talk that al Shabaab was importing weapons and possibly fighters from abroad.
The Puntland coast lies near Yemen, where conflict is raging and al Qaeda is active. Al Shabaab is aligned to Al Qaeda.