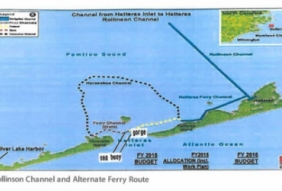 Posted on September 7, 2015
By Catherine Kozak, The Outer Banks Voice
North winds and a moon tide have recently improved passage through Hatteras Inlet, allowing charter boats to continue to inch their way to and from the ocean. But it is still unclear what the best short-term solution will be to the worsening navigational problems in the waterway.
"We're turning over every rock we can," said Dare County Board of Commissioners Chairman Bob Woodard.
Some Dare officials met last week on different days with U.S. Sen. Thom Tillis, R-NC, and Gov.Pat McCrory, and they were able to raise concerns about conditions in Hatteras and Oregon inlets.
READ FULL ARTICLE HERE