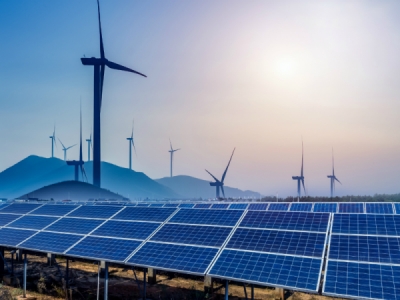 Posted on November 10, 2020
On-demand hydrogen fuel could be made available to the port's industrial clusters and tenants
On-demand hydrogen fuel could be made available to the port's industrial clusters and tenants
Sohar Port & Freezone aspires to turn the industrial port into a hub for lower-cost hydrogen, replacing traditional hydrocarbons, along with plans to develop up to 3.5GW of solar power capacity.
The firm notes in a recent white paper that building hydrogen electrolysers at the industrial port could become a low-cost supply option given the declining costs for solar photovoltaic (PV) generation.
"The planned facility will create carbon-free hydrogen from low-cost solar power, stored for use on demand," the white paper said.
The hydrogen will be stored for later delivery through pipelines and trailers to the port's industries and tenants for clean transport and industrial purposes.
It is understood the Sohar Port & Freezone is working with Port of Rotterdam, which owns 50 per cent stake in the port, as well as research institutes including Germany's Hydrogen Rise, to "identify cost-competitive solutions for the adoption of hydrogen as an alternative to natural gas".
Scaling up will be critical to bring down the costs of technologies for producing and using clean hydrogen, such as electrolysers, fuel cells and hydrogen production with carbon capture, utilisation and storage (CCUS) technology.
The white paper suggests near-term opportunities for the lower cost hydrogen produced at the port include deep sea vessels that can run using the fuel. The industrial port also cited a feasibility study being undertaken by the Ministry of Energy and Minerals that could pave the way for policies that directly support investment in hydrogen technologies.
Hydrogen is expected to help tackle critical energy challenges including decarbonising the iron and steel industries, where it has proven difficult to significantly reduce emissions, the white paper suggested.
Floating solar plant
The port is also studying the potential to build a floating solar plant along with the Sohar University and the Netherlands' Delft University of Technology.
It is the latest project being proposed at the port and free zone, in addition to the 300MW solar plant being planned by Qabas, the renewable energy arm of the Shell Development Oman.
Qabas' first 25MW solar PV plant at the Sohar Port is expected to become operational by end of the year.
Sohar Port's overall plan entails developing larger utility-scale power generation facilities within the industrial port and the adjoining free zone, which will supply competitively priced, solar PV-based electricity to industrial end-users and other tenants operating within the hub.
The ultimate planned solar PV capacity is 3.5GW, which is equivalent to the port's current electricity consumption.
Oman has the potential to become a net exporter of green hydrogen fuel by harnessing renewable energy principally solar and wind, according to a preliminary study conducted jointly by the Technical University of Munich (TUM) and Hydrogen Rise AG.
A hydrogen-based economy that roughly equates to Oman's current oil export industry is equivalent to "around 1,900 trillion BTU (British thermal units) per annum in calorific value, which corresponds to 17 million tonnes of hydrogen."
To achieve this scale of hydrogen production, MEED understands the sultanate will require "around 200 gigawatts of renewable energy (RE) capacity that produces around 700 TWh/year [terawatt-hours a year] of electricity in addition to 150-300 million cubic metres of desalinated water – equivalent to 8 to 15 per cent of water consumption at 2016 levels – for the electrolysis process."
The land area required for solar photovoltaic and concentrated solar power (CSP) based infrastructure would cover an estimated 3,000 square kilometres.
Source: power-technology