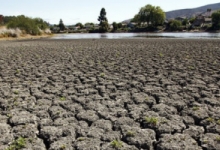 Posted on August 20, 2015
By Cynthia Lambert, The Tribune
City leaders have taken one small step toward possibly digging out the nearly dry Laguna Lake.
The San Luis Obispo City Council voted unanimously Tuesday to authorize a request for proposals for the first phase of a dredging and sediment project for the lake. A plan could be determined as soon as next spring.
The naturally occurring lake has been altered over the years, resulting in increased amounts of sediment. With the ongoing severe drought, the lake is nearly empty, and some residents have been urging the city to act now.
READ FULL ARTICLE HERE