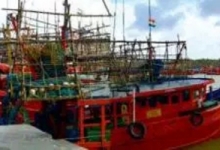 Posted on July 24, 2015
The fishing harbour in Odisha's Paradip, the biggest in the country, is posing a threat to the lives of fishermen as the berth and the Mahanadi river confluence has allegedly not been dredged since the last 17 years, resulting in heavy siltation.
The recent incident in which three fishermen went missing after their fishing trawler capsized evoked sharp response from the fisherfolk. The local people alleged that the situation has arisen due to government apathy.
The berths where boats are being anchored are getting shallow due to sea erosion while the problem of siltation is getting acute in the absence of dredging causing inconvenience in the movement of the trawlers. Besides, it is resulting in high tides and increasing the sea current.
The high tides in the sea are pulling the boats to the sea bed. The state's largest fishing hub could come to a standstill unless it is dredged soon, fishermen warn.
Notably, Paradip fishing harbour is the largest fishing hubs in the country. The special fishing harbour berths cater to the needs of nearly 600 deep-sea trawlers. Besides, an advanced fishing hub has been set up from where tonnes of sea fish and shrimps are exported to various countries.
The fishing harbour provides bread and butter to over 5000 fishermen and contributes significantly to the state's economy.
But the state government is not showing any interest in the development of the port as a result of which trawler owners are incurring huge losses due to the sea erosion, a fishing businessman said.
It may be mentioned here that the harbour was earlier under the control of Union government and Paradip Port Trust (PPT). However, the state government took it under its administration in 2002.
Dredging of the berths and Mahanadi river confluence was last done in 1998, a year before the Super Cyclone while it was under the control of Paradip port.
"Dredging needs to be done every five years. The state government hasn't dredged the harbour even once since it took over the administration. The government's indifferent attitude has led to mishaps. If the government doesn't take immediate steps, we would resort to agitation," a member of Odisha Trawler owners' Association threatened.