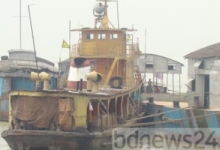 Posted on August 25, 2015
The Shipping Ministry has decided to step up dredging operations in the Shimulia-Kawrakandi ferry route by bringing in a larger dredging unit from the Padma bridge project.
Operations in the route, popularly called the gateway to southern Bangladesh, have been hampered for the last two weeks due to poor navigability.
Although the route was kept open using smaller ferries relying on high tide, even that has stopped over the last four days.
On Sunday, Shipping Minister Shahjahan Khan discussed the situation with the Padma Bridge Authority and persuaded them to move one of their bigger dredgers to clear the Lauhajang Turning Point.
A team of observers are scheduled to visit Shimulia on Monday , after which the dredging will star.
Hopefully the navigability crisis would be solved, the minister said.
"We cannot say for sure when the ferry service will be normalised. But a team of observers will visit the site. We can speak about it after we get their feedback."
He added that even though Bangladesh Inland Water Transport Authority has six dredgers, none of them can be used due to the 'unnaturally' strong currents.
"Only three of our ferries are capable of working in these currents and they are trying their best."
Shekhar Chandra Roy, assistant manager of BIWTA's Shimulia landing, told bdnews24.com the ferries made 70-80 crossings per day in normal situations. But the siltation in the channel has cut down the number of crossings to seven or eight at the most per day.
He added that of the 18 vessels handling vehicles on the route including the four Ro-Ro ferries, only the latest addition to the fleet Kusumkali was keeping up the operations. But on Sunday night, the small vessel went out of order.
"It is being repaired at BIWTC's Shimulia workshop. Later, another ferry named Camelia set off for Kawrakandi. But it did not reach Shimulia until 7:30am on Monday."