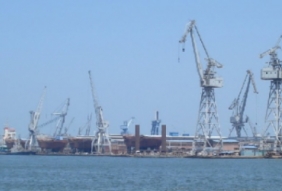 Posted on November 30, 2015
The work at the side canal in Egypt's East Port Said will be completed by the end of June 2016, chairman of the Suez Canal Authority Mohab Memish announced.
The statement came following President Abdel Fatah al Sisi's visit to the site Thursday.
"Digging operations of the new side canal will start next week. It should go into operation by the end of 2016," Mamish was quoted by state news agency MENA Thursday.
The new shipping lane, which is 9.5 kilometers long, 17 meters deep, and 250 meters wide, is expected to "speed up shipping and allow ships direct entry into the port instead of waiting for seven hours," according to Mamish.
Vessels that come into the East Port Said have to cross in a convoy after waiting for several hours.
The dredging work of the new canal will cost $36 million, of which $7.5 million will be financed by the Suez Canal Container Terminal (SCCT,) he added.
"The project will help establish promising industrial and logistics zones around the port, thus contributing to achieving comprehensive development in the canal region and Sinai Peninsula," Mamish was quoted by Egypt's State Information Service (SIS) Thursday.
In October, A U.S.-Belgian Dredging Coalition has won an international tender to dredge the new shipping lane, officials from the Suez Canal Authority (SCA) said.
The winning coalition includes Belgium's Dredging, Environmental and Marine Engineering NV (DEME) and U.S. Great Lakes Dredge and Dock Company; the other four-company coalition includes UAE- Belgian-Dutch Coalition which include Emirati National Marine Dredging Company (NMDC), Dutch Boskalis for Dredging, Dutch Van Oord, Belgian Jan De Nul group.