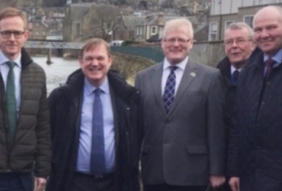 Posted on March 8, 2016
The Scottish Environment Protection Agency has this week pledged to consider dredging the Teviot and Slitrig.
SEPA chief executive Terry A'Hearn visited Hawick yesterday (Thursday), and was joined at a high-level meeting in the town hall chambers by local MSP John Lamont, and councillors Stuart Marshall, Watson McAteer and George Turnbull.
The summit was arranged in the wake of growing concern about the large amount of gravel on riverbeds in and around the town, and vociferous calls for the Teviot and Slitrig to be dredged as soon as possible.
Mr A'Hearn said he understood the serious consequences which flooding can have on local communities, and added: "We remain committed to working closely with Scottish Borders Council as they progress the flood protection scheme for Hawick and will consider any proposals put forward for dredging of the surrounding watercourses."
He also said he welcomed the opportunity to discuss the specific issues affecting Hawick following the severe floods.
Mr Lamont said: "Today's meeting with the chief executive of SEPA was very useful. We discussed a range of issues including short-term proposals for dredging and improving the flow of the Teviot and Slitrig and the ongoing preparatory work for Hawick's flood defence scheme."
The Tory parliamentarian added: "The team from SEPA were clearly very sympathetic to the concerns of residents about flooding in the town.
"And what came out of the meeting was a clear commitment from SEPA that they would work closely with the council on any proposals for immediate measures, including dredging."
Councillor McAteer, Hawick and Denholm, said: "Councillor Marshall and I wrote to Terry A'Hearn following the serious flooding in December in order to highlight local concerns and seek his help to reduce the obvious high levels of gravel in our river beds.
"We received a very supportive letter which, of course, highlighted that that the council is responsible for any proposals."
Councillor Marshall said he believed that more effective and regular maintenance of the rivers would be a?major step in reducing flood risk. He continued: "The ?ever-increasing mountains of gravel are becoming permanent obstacles to river flow, and with three major events during a six-week period, the evidence was visible for all to see."
Councillor Turnbull, Hawick and Hermitage, added: "Today's meeting was very positive and will hopefully set the scene for some future action on our rivers."