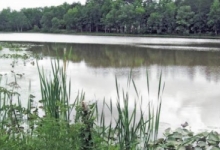 Posted on June 18, 2015
By Sarah Fay, Times-Herald.com
The city of Senoia has made a lot of progress over the last several years toward becoming self-sufficient with its water supply, and the Georgia Environmental Protection Division is currently taking comments on the city's plan to begin pulling more water from Hutchinson Lake.
In addition to moving forward with the expansion, the city will also need to increase the rates water customers pay, to make up for the loss of roughly $120,000 after a major industry drastically cut its water usage.
The city currently has a permit to withdraw up to 300,000 gallons per day from the lake. The EPD has opened a 30-day comment period on a proposed permit that would allow the withdrawal of up to 450,000 gallons per day.
READ FULL ARTICLE HERE