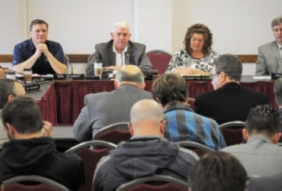 Posted on November 5, 2015
By Aaron Boehm, Upper Michigans Source
At a joint hearing of the state Senate Commerce, Transportation, and Economic Development and International Investment committees on Monday, legislators adopted Senate Resolution 105 to encourage the federal government to support plans to upgrade the Soo Locks.
According to the Michigan Senate Republicans, the resolution also approved a U.S. Army Corps of Engineers reprogramming request to fund an Economic Reevaluation Report for replacing the Davis and Sabin locks.
Citing the locks' vital importance to Michigan's, the U.S.'s and Canada's economies, resolution sponsor Senator Wayne Schmidt said modernizing the locks is needed now more than ever.
READ FULL ARTICLE HERE