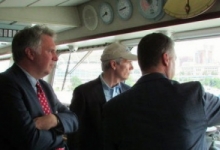 Posted on July 6, 2015
By James Ewinger, The Plain Dealer
Sen. Rob Portman on Friday met with port officials, shippers and people who depend on them to hear how vital water-borne freight is to the region's economy.
One pressing issue is dredging and the ultimate destination for what is hauled up from the floor of the river.
Portman, vice-chair of the U.S. Senate's Great Lakes caucus, said that in a pending appropriations bill he got language inserted that would bar the U.S. Army Corps of Engineers from dumping the dredged material directly into Lake Erie.
READ FULL ARTICLE HERE