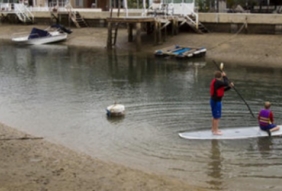 Posted on October 20, 2015
By Hannah Fry, Daily Pilot
As Newport Beach prepares to dump sand along the sea walls surrounding Balboa Island's Grand Canal, residents are wondering when their dream of a fully dredged waterway may become reality.
Since the Grand Canal was last dredged in the late 1990s, waterfront residents have watched as the white sand lining the passage sloughed away, transforming it to a stretch of slimy mud.
Decades ago, Balboa Islanders and visitors would place their beach chairs on the sand beside the Grand Canal to watch as their children hunted for crabs and seashells. Though the Grand Canal, which bisects the main island and Little Balboa Island, is still widely used by paddleboarders, boaters and families, people are not as inclined to sit there anymore, given its current state, residents say.
READ FULL ARTICLE HERE