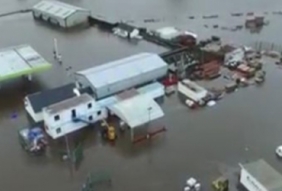 Posted on November 19, 2015
Donegal and West Tyrone were badly affected by flooding over the weekend, and SDLP West Tyrone representative Daniel McCrossan spoke with local residents, the Minister for the Environment and political representatives in the Republic about this urgent issue.
Mr McCrossan said that, "Heavy rainfall over the weekend has caused flash flooding in many parts of West Tyrone. Clady was hit particularly badly with many businesses and homes affected. I was sorry to hear that one home suffered considerable damage
"This morning I called with business owners in the village; Kieran and Gerard McGlinchey of Flannigans shop, the Elliot's who own the smugglers restaurant, Frank Wray local business man and Martin Gallen of Gal Oil fuel station. They are understandably upset by the sudden damage and are eager to see measures put in place to prevent it happening again. I have also spoke with members of the Clady cross community association who must be commended for their assistance of local residents and their efforts to clean up the village.
"The torrential rain caused the River Finn to burst its banks and urgent work must now be undertaken to dredge the riverbed toalleviate the pressure and prevent further damage to the area. As we move into winter weather conditions will deteriorate and we cannot allow this to happen again.
"I have talked with the Minister for the Environment, Mark H Durkan who will work to find grant aid for those affected. As the river forms a border with the South, I have also met with Fianna Fáil Councillor Patrick McGowan who has committed to work collaboratively with the SDLP to address the issue."
Speaking about the issue, Mark H Durkan said, "Following recent incidents of flooding, individual householders who have suffered severe inconvenience can claim £1,000 payment from their local council, as an offer of practical assistance. The payment is meant to ensure that homes are made habitable as quickly as possible. It is not a compensation payment.
"If you feel that you may be entitled to the payment, contact your Council as soon as possible and they will arrange for an urgent inspection of your property. If the Council decides that your claim is eligible, you will receive your payment promptly.
"My Department will reimburse councils for the payments to individual householders, and for the direct and indirect costs of providing practical assistance and advice."
Mr Durkan concluded, "I and my Executive colleagues want to help those most severely affected to get back to normal as quickly as possible and to assist them in ensuring their homes are habitable. Working with and through councils, my aim is to ensure that practical and financial help is delivered to those most in need as early as possible. I would also urge people to keep an eye out for elderly and vulnerable neighbours and check that they are ok."