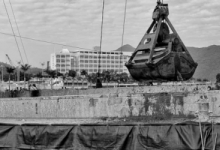 Posted on August 15, 2015
By Rodolfo Quevenco, IAEA
With a coastline of over 8500 kilometres, 90 per cent of Brazil's total exports and imports pass through its ports.
Many of the country's major ports and harbours were built over 100 years ago. Keeping shipping lanes open and enabling these ports to accommodate larger vessels with ever bigger loads requires constant dredging, often at a high cost.
Over the years, the use of nuclear techniques to study sediment build-up and transport across major ports and harbours (see box) has saved Brazil millions of dollars in dredging costs, said Jefferson Vianna Bandeira, a senior researcher in theEnvironment Department of the National Nuclear Energy Commission of Brazil.
READ FULL ARTICLE HERE