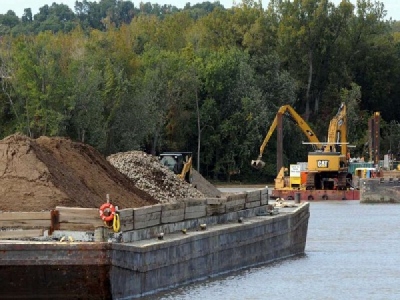 Posted on September 20, 2016
By Wendy Liberatore, timesunion
New York Attorney General Eric Schneiderman, in a letter sent Friday, asked the U.S. Environmental Protection Agency to postpone the completion of General Electric's $1.6 billion cleanup of the upper Hudson River until further tests can confirm that dredging has sufficiently removed hazardous PCBs from the riverbed.
The letter from Schneiderman's office to Judith Enck, regional administrator of the EPA, said the agency has not proved whether dredging is working. Therefore, a "certificate of completion" to GE, which Scheiderman's office said EPA is considering issuing now, must be postponed until the EPA determines how much pollution remains in the river and when or if people can safely eat the river's fish from the Hudson again.
Additionally, the letter also asked the EPA to undertake fish consumption surveys in humans to determine the present and future exposure from eating Hudson River fish. The survey should span the river from Hudson Falls to the southern tip of New York City. Finally, Scheiderman's office asked for EPA to define in writing the scope and objective of the EPA's five-year review and clarify the role of the members of the review team. The letter stressed the importance of the review because once the "certificate of completion" is issued, the EPA will "have limited recourse against GE" in the future.
EPA confirmed receipt of the letter Saturday. Mary Mears, an agency spokesperson, said that EPA will consider Scheiderman's points as part of the agency's review assessment of the project, which is set to be completed in April 2017. However, she said that the EPA would not be ready to send a "certificate of completion" until the habitat restoration work (being conducted this year) and decommissioning of the treatment facility are done. She said the EPA would also wait to receive a final report from GE, which will not arrive to the EPA before the final review is complete in April.
In a statement, GE said that the EPA has already declared the project a success and that no additional dredging would be necessary.
"Since the completion of dredging in October, the PCB levels in the Upper Hudson have already shown significant declines … and we're confident that the assessment will show the dredging project achieved the agency's goals of protecting public health and the environment."
Last fall, GE announced the end of its six-year Hudson River PCB dredging project, saying the company has met the state's "every obligation."
PCBs, or polychlorinated biphenyls, which pose a threat to human health and the environment, seeped into the Hudson River from GE's Washington County capacitor plants for decades. Dredging to remove sediment contaminated by PCBs began in 2009 in Fort Edward and continued south to Troy, and was wrapped up in October 2015.
Though dredging is completed, Schneiderman said that these additional tests are necessary to take in order to ensure that PCB removal project "is fully protective of human health and the environment."
Source: timesunion