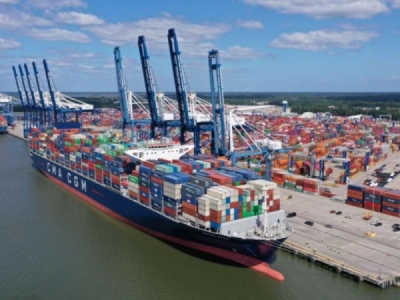 SC Ports had a busy October moving cargo at Wando Welch Terminal. (Photo/SCPA/Walter Lagarenne)
Posted on November 10, 2020
CHARLESTON, SC — NOV. 9, 2020 — South Carolina Ports' October volumes show an ongoing recovery and strength in containers, vehicles and inland ports.
"Our business continues to rebound with better-than-expected volumes in the container and vehicle segments, as well as with a record October at our inland ports," SC Ports President and CEO Jim Newsome said. "Our ongoing efforts to recruit more cargo to SC Ports will further drive growth."
SC Ports handled 216,196 twenty-foot equivalent container units (TEUs) at Wando Welch and North Charleston container terminals in October, down less than 1% year-over-year. SC Ports has handled 797,108 TEUs thus far in fiscal year 2021, which began July 1.
SC Ports moved 119,986 pier containers — which account for cargo boxes of any size — in October, for a total of 443,481 pier containers handled fiscal-year-to-date.
Vehicles remain a strong segment for SC Ports as 20,637 vehicles rolled across the docks of Columbus Street Terminal in October, down less than 2% year-over-year. Vehicle volumes are up more than 18% this fiscal year, with 93,681 vehicles handled since July.
SC Ports' two rail-served inland ports had a record October with a combined total of 16,404 rail moves. Inland Port Greer reported 12,935 rail moves, up 9.2% year-over-year, and Inland Port Dillon reported 3,469 rail moves, up nearly 40% from last year.
SC Ports' efficient operations, big-ship capabilities and inland ports have attracted new business to the port this year. Michelin will use Inland Port Greer to move cargo for its 3-million-square-foot distribution center in the Upstate, and Walmart is preparing to build a 3-million-square-foot distribution center in Dorchester County.
"Retail companies are seeing explosive growth during the pandemic, and this boom presents a great opportunity for SC Ports," Newsome said. "We are pros at handling high-demand supply chain needs for the automotive and advanced manufacturing industry, which will translate seamlessly into supporting retail distribution."
In addition to growing the cargo base, SC Ports is also investing in port infrastructure to handle more cargo and bigger ships. Upgrades to Wando Welch Terminal are ongoing, the Charleston Harbor Deepening Project is progressing toward 52 feet, and the Hugh K. Leatherman Terminal is on track to open in March.
The Leatherman Terminal recently received its first cargo-handling equipment with the arrival of five ship-to-shore cranes with 169 feet of lift height above the wharf deck, as well as four hybrid, rubber-tired gantry cranes.
"It is always one of our most exciting times to see major equipment infrastructure arrive in Charleston," Newsome said. "These tall cranes will be a significant addition to the Charleston skyline and will serve as a reminder for all in the area of the importance of what we do."
About South Carolina Ports Authority
South Carolina Ports Authority (SCPA), established by the state's General Assembly in 1942, owns and operates public seaport and intermodal facilities in Charleston, Dillon, Georgetown and Greer. As an economic development engine for the state, Port operations facilitate 225,000 statewide jobs and generate nearly $63.4 billion in annual economic activity. SCPA is soon to be home to the deepest harbor on the U.S. East Coast at 52 feet, and the Port is an industry leader in delivering speed-to-market, seamless processes and flexibility to ensure reliable operations, big ship handling, efficient market reach and environmental responsibility. For more information on SCPA, please visit www.scspa.com and read the 2020 Annual Report.
Source: scspa