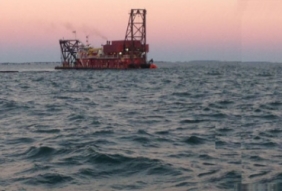 Posted on September 15, 2015
The dredging project in the Savannah Harbor begins Monday.
The project has been in the works for about 17 years now. Lawmakers have been pushing it because it will bring substantial economic benefits to the U.S., allowing larger and more heavily-loaded vessels to access the harbor.
"I don't think any of us ever anticipated four federal agencies to sign off on it and changing political winds along the way, a war, budget crisis, all kinds of issues, 9/11 came along, but we kept pushing and pushing and pushing," said former congressman Jack Kingston.
"It's a very exciting day, and when you think this was a project that started over 20 years ago and now we are finally seeing it come to fruition, that's very exciting," said Congressman Buddy Carter.
The project will deepen the Savannah River to 47 feet to more efficiently serve the growing demands of world trade.
"We can load more Georgia exports on than we can today, and all it does is bring down the cost of those goods or it improves their competitiveness in the global market, so this is all about better serving the nation, better serving commerce and better serving the ships that come and go from our port every single day," said Georgia Ports Authority Executive Director Curtis Foltz.
The Dredge Alaska is taking on the huge undertaking. Right now, the dredging is happening 17 miles from Ft. Pulaski, in the outer channel. It will take 1,218 days to complete the outer channel. The completion date for outer channel is July 18, 2018.
A total of 40 men live on the dredge, and it is operated 24 hours a day.
The project will cost approximately $706 million, including construction and environmental costs. The federal government will cover 60 percent and the state will cover 40 percent of the funding.
The estimated time frame for construction is about 5 years.