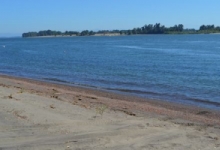 Posted on August 15, 2015
By Mark Miller, Pamplin Media
Amid vocal opposition from residents, the U.S. Coast Guard is backing off plans to dump dredge spoils from an environmentally contaminated site in Portland off the shore of Sauvie Island.
The Coast Guard wants to conduct "maintenance dredging" of its berth for the USCGC Bluebell at its Marine Safety Unit in the Swan Island Lagoon, located within the Portland Harbor Superfund site. It applied for permits with the Oregon Department of State Lands and U.S. Army Corps of Engineers, which sent out public notices in May to people living near Morgan Bar, a reach of the Columbia River just a few hundred feet from a populated part of Sauvie Island.
But now the Coast Guard says it will withdraw its permit application and look at alternatives to Morgan Bar as a dumping ground for the dredge spoils.
READ FULL ARTICLE HERE