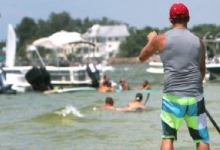 Posted on August 25, 2015
By Dale White, Herald-Tribune
They came by kayak, sailboat, jet ski, paddleboard, pontoon boat, by whatever watercraft they could to reach a Sunday afternoon beach party the likes of which they believe Sarasota has never before experienced.
On a Big Pass sandbar that at low tide stretched the equivalent of about three city blocks, 2,000 or more beachcombers — with dogs and children in tow — joined "Party on the Pass," a rally to raise awareness for a cause launched by the environmental group Suncoast Waterkeeper and the Siesta Key group Save Our Siesta Sand.
The two groups have united to call for the U.S. Army Corps of Engineers to conduct a thorough environmental study of its plan for dredging Big Pass to replenish the beaches on Lido Key. The Corps' permit application is still pending before the Florida Department of Environmental Protection.
READ FULL ARTICLE HERE