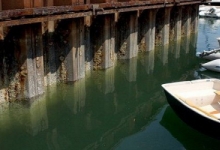 Posted on August 10, 2015
By Dustin Luca, The Salem News
Excavators could be digging through part of the Salem Harbor sea floor starting mid-November.
Brewer Hawthorne Cove Marina, a 115-boat marina on White Street, is currently seeking approval from the U.S. Army Corps of Engineers to dredge its share of Salem Harbor.
The work would start Nov. 15 if approved. It would clear out about 30,000 cubic yards of "dredge material" — silt, sand, and decades of natural buildup — to be dropped into the ocean 12 miles off the coast, according to Noah Flaherty, general manager of the Marina.
READ FULL ARTICLE HERE