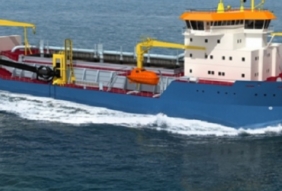 Posted on March 24, 2016
Royal IHC (IHC) has won a contract from National Marine Dredging Company (NMDC) to build and deliver the first custom-built trailing suction hopper dredger (TSHD) vessel in the Gulf area.
The new vessel is expected to boost NMDC's international growth and fleet investment strategy.
IHC CEO Bram Roelse said: "We are proud to contribute to NMDC's growth strategy and value the long-term relationship with our customer.
"Our successful cooperation goes back many years and has already resulted in the delivery of over ten vessels."
The new TSHD, which will have a capacity of 6000m³, will feature a design which had evolved out of the collaboration of IHC and NMDC.
The solution can be customised in accordance to situational needs which exhibits a combination of shallow draft and a large dredging depth with high manoeuvrability and is specifically designed to operate in high temperature zones.
The design also incorporates a one man bridge and a forward looking multi beam survey system.
IHC's dredgers are characterised by features which aims at promoting fuel efficiency, as well as reducing emissions fostering an enhanced worklife of the vessel.
The contract will also include a full life-cycle support programme combined with condition-based monitoring, which ensures the long and sustainable operation of the vessel.
IHC will also provide training to the crew of NMDC.
Last month, Royal IHC had been awarded a contract by Belgium-based Dredging Environmental & Marine Engineering (DEME) group to design and deliver a multifunctional TSHD.