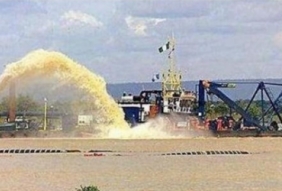 Posted on September 14, 2015
The dredging of River Benue is yet to take off despite being appropriated in four different budgets by the former President Goodluck Jonathan's administration, LEADERSHIP findings have revealed.
The River Benue dredging is expected to usher in shipping activities, generate over 2 million jobs for the teeming unemployed youths across the North, boost maritime and economic activities in the North and put an end to the perennial flooding in the northern region.
LEADERSHIP findings revealed that the project, which is expected to start from Lokoja, Kogi State through Makurdi, Benue State in the first instance and thereafter extend to other northern states, was provided for in the 2011, 2012, 2013 and 2014 national budgets but work is yet to begin.
There was no mention of work on the dredging throughout the Jonathan administration despite its appropriation, until early this month, when the acting managing director of the National Inland Waterways Authority (NIWA), Danladi Ibrahim, hinted that the N25billion contract for the dredging of River Benue which was awarded last year will commence soon.
The acting NIWA managing director, however, did not disclose which firm was awarded the contract and why the project had to wait for such a long time before the contract was awarded.
In 2011, the award of contract for the project which was valued at N25billion was stalled following interest from a firm linked to one of the ex-Niger Delta militants, Mr. Government Ekpemupolo also known as Tompolo after tendering processes were concluded.
Saddened by the delay in getting the project started despite its inclusion in four federal budgets, a Non-Governmental Organisation (NGO) known as Policy Advocacy Group (PAG) which has been monitoring developments regarding the River Benue dredging, wrote two separate petitions to President Muhammadu Buhari to order investigation into the white elephant project.