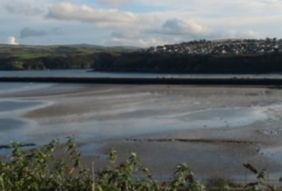 Posted on January 21, 2016
Conygar Stena Line Limited, the joint venture between The Conygar Investment Company PLC and Stena Line, has submitted planning and marine licence applications in respect of the first phase of the Fishguard Harbour Marina project.
This consists of the construction of two new breakwaters, revetments and an eight hectare reclamation platform, 1.4 hectares of which would be allocated for the future port development works and the remainder for the residential and marina related development.
In addition, the proposed development will include the construction of a marina basin to accommodate 345 berths and an approach channel to provide all tide access.
The first phase of the development would also include a public slipway, a boat hoist and a service quay for local fishing boats.
It has been welcomed by Sea Trust director, Cliff Benson, who said: "I am happy that at last the Marina Project is moving forwards. It will remove the shadow of uncertainty that has hung over the future of the community.
"The fact that Stena and Conygar will be investing here must have a positive effect. I think it will create jobs and if done sensitively and sustainably it will greatly enhance Goodwick.
"Sea Trust has been advising Conygar on conservation Issues as well as conducting surveys of the harbour and Fishguard Bay over the past few years.
"We will continue to be consulted as to the ongoing protection of the marine wildlife of the area.
"The possibility of permanent access to the open sea will certainly increase our capability to monitor our marine wildlife and also create a sustainable eco tourism attraction that will bring many more visitors to the area. There will inevitably be some disruption during the build process but in the longer term we believe the project will bring major benefits."
Robert Ware, CEO of Conygar, commented: "The submission of these applications for the construction of the infrastructure which includes two breakwaters, dredging the marina basin and so creating a platform for the housing, is an important further step towards Conygar being able to deliver the residential development and the marina with its ancillary facilities."