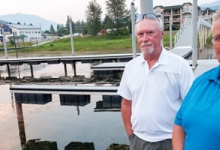 Posted on August 20, 2015
By Lachlan Labere, Eagle Valley News
Unless the Sicamous channel is dredged, the community may see some of its tourism economy slip away.
This was part of the message delivered to District of Sicamous council by Mary-Ann Easton and Bill Anderson, who served as a delegation representing stratas for the Riverside and the Narrows.
With the low water in the channel, marinas for the two condominium complexes have seen their number of usable boat slips reduced by 57, while a total of 173 boat slips throughout the channel, including those in business and residential marinas, are now unusable.
As Easton explained, the reduction in usable slips is a result of a low snow pack, little rainfall and the subsequent rapid drop in water levels as of late throughout the Shuswap.
READ FULL ARTICLE HERE