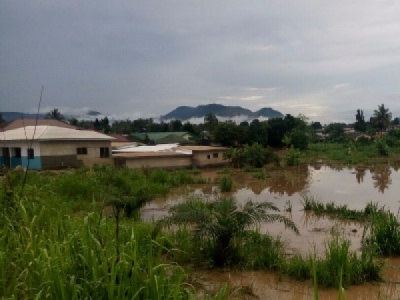 Posted on September 27, 2016
Residents of Nsukwao, a suburb of Koforidua in the Eastern Region are calling for the immediate dredging of the Nsukwao River, which is now the main drainage system in the town.
This follows the flooding of almost the entire community after a 30-minute downpour Sunday, which reportedly killed one person and destroyed property worth millions of cedis.
The deceased, a woman said to be in her late 40s, was returning from church together with three others in a taxi when the incident happened.
Although officers from Ghana National Fire Service (GNFS) were at the scene, they were unable to rescue the occupants of the taxi.
According to Adom News reporter Maxwell Kudekor, the Fire officers who could not swim said they did not have ropes to throw into the water to help the drowning occupants of the taxi.
The reporter said a bystander braved the flood waters to rescue them.
Although he was unable to save the lady by the time he got to her, he was able to rescue the other two men occupants of the taxi. The taxi driver who was feared dead was later found unconscious.
Authorities are yet to ascertain the cause of the flooding but residents tell believe the unbridled development activities close to the river has negatively distracted the flow of water.
Source: Myjoyonline