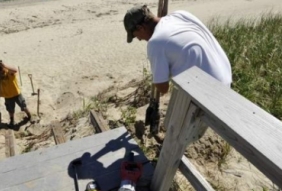 Posted on September 1, 2015
By George Brennan, Cape Cod Times
On Monday, voters will be asked to spend $1.25 million to salvage 150,000 cubic yards of sand being dredged from the Cape Cod Canal to nourish Town Neck Beach.
The single-issue special town meeting is scheduled for 7 p.m. at Sandwich High School. The money would come from community preservation funds and the measure requires a two-thirds majority to pass.
The funds would be combined with $600,000 the town already has on hand from a previous vote to pay the $1.7 million cost of transporting the spoils and putting them on the beach, as well as $150,000 to pay for a boardwalk and stairs to access the replenished beach.
READ FULL ARTICLE HERE