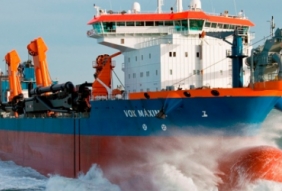 Posted on April 4, 2016
Dutch dredging and marine construction major Van Oord has reported excellent results for 2015, including a record revenue of €2.579 billion, an increase of 23% on the previous year, and a record profit of €169 million.
The figures are attributed to the successful execution of several major projects, including construction of the Second Suez Canal, completion of Luchterduinen offshore wind farm, and fast-tracked execution of Gemini wind farm.
For the Second Suez Canal project, Van Oord was part of a four party consortium that successfully constructed a new 35km long bypass within an extremely tight deadline of ten months. More than 25 vessels dredged well over 200 million cubic metres of sand in record time, on some days producing more than one million cubic metres.
READ FULL ARTICLE HERE