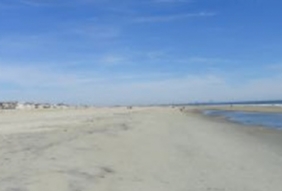 Posted on October 20, 2015
A preliminary assessment by the Army Corps of Engineers this week confirmed what already is evident: The rebuilt beaches at the south end of Ocean City escaped the major erosion seen at the north end during a four-day northeast gale last weekend.
Many feared that the $57 million worth of sand the Army Corps finished pumping on Sept. 29 would wash away as winds gusting beyond 50 mph caused the highest tides since Superstorm Sandy in 2012.
But the elevated beach worked as designed in protecting property.
An Army Corps inspector's report from last week included the following: "no berm scarping, no dune erosion, no crossover damages, no lost or hanging sand fence. Evidence of water on the berm up to the dune toe," according to Richard Pearsall, spokesman for the Army Corps Philadelphia District.
In Army Corps parlance, the "berm" is the beach, which was raised to an elevation of seven feet (NAVD88) in the project that was completed Sept. 29. The peak tide during the storm was 4.58 feet (NAVD88). That tide level allowed the tops of waves to crest the berm and slowly wash up to the edge of the dunes.
But the front edge of the elevated beach took the brunt of the wave action, and the new dune line was unaffected.
While the beach showed no signs of "scarping" (the storm didn't leave the sand cliffs seen at the north end), it appears that some of the width of rebuilt beaches was diminished. Some sand was pulled into the surf zone and is now forming new gullies and sandbars.
But the beaches at the south end remain more than 200 yards wide — from bulkhead to high tide line.
An uninterrupted dune line now extends from 37th Street to a short arc around the southernmost properties in Ocean City at 59th Street. The dune crest is at 12.8 ft (NAVD88) with a top width of 25 feet.
All crossovers with a hard-pack of gravel are now complete, and the vehicle entrance to Corson's Inlet State Park at the 59th Street end of Central Avenue is now open. Some sand-fencing work remains to be completed. And the new dunes will be planted with dune grass in November.
Some equipment remains on the beach at 59th Street, and the feeder pipeline at 55th Street remains in place.
But the same contractor, Great Lakes Dredge and Dock Company, is expected to begin work on a similar beach replenishment project at the north end of Ocean City, between Seaspray Road and 14th or 15th Street starting later in October.
Equipment remaining at the south end of Ocean City likely will be transported to the north end when the project begins.
The pipeline dredge Illinois is expected to complete work in Sea Isle City on Oct. 24 and move directly to Ocean City to begin work there.