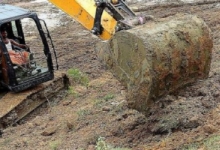 Posted on June 19, 2015
By The Hindu
Work on dredging the Kallanai Kalvai, the Cauvery, and the Vennar channels have been taken up by the Public Works Department at an estimate of Rs.7.50 crore and the works would be completed within two weeks.
Although funds were released earlier, the work was delayed because of summer showers, said N. Subbaiyan, Collector.
Accompanied by officials, the Collector inspected various channels where the work on dredging was executed on Wednesday.
READ FULL ARTICLE HERE