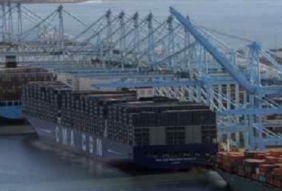 Posted on April 14, 2016
By Donna Littlejohn, Daily Breeze
A port funding request that could provide revenues for dredging as the Los Angeles/Long Beach port complex prepares for the new megaships moved forward Tuesday when the House Committee on Appropriations included it in a draft bill.
U.S. Rep. Janice Hahn's request for $1.26 billion — which, if eventually approved, would be divvied up among all the nation's ports — was included in the preliminary version of the 2017 Energy and Water Appropriations bill.
The money would go into the Harbor Maintenance Trust Fund, which is used to pay for critical infrastructure projects at the nation's ports.
READ FULL ARTICLE HERE