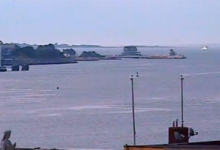 Posted on August 20, 2015
The Army Corp of Engineers released it's plans Tuesday for dredging Long Island Sound from area harbors and ship navigation channels.
The plan looks at ways to handle more than 50-million cubic yards of material including silt and sand. This process will help allow ships to make their way through the waters.
The draft suggests dredging Connecticut River areas and moving it to Long Island Sound. Many environmentalists are against dredging, saying that the sediments can carry toxic chemicals like pesticides, lead, and mercury.
Congressman Joe Courtney says the proposed rule is a step in the right direction.
"A sustained effort to maintain federal waterways and access to Connecticut's many ports and harbors is critical to our regional economy and the free flow of commerce through Long Island Sound."
The Citizens Campaign for the Environment is pushing for more public hearings since the draft is more than 1,000 pages long.
There will be two public hearings held in Connecticut on the dredging plan at the end of this month. The public is invited to attend either meeting below.
Stamford
Wednesday – August 26, 2015
University of Connecticut, Stamford
1 University Place,
Stamford, CT 06901
Registration begins at 5:30 p.m.
Hearing begins at 6:00 p.m.
New London
Thursday – August 27, 2015
Holiday Inn New London
35 Governor Winthrop Blvd
New London, CT 06320
Registration begins at 5:30 p.m.
Hearing begins at 6:00 p.m.