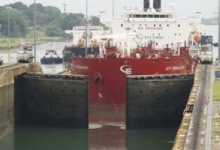 Posted on November 30, 2015
Quay and dredging works have begun at PSA Panama's International Terminal (PPIT), as part of a US$450m expansion project to raise the facility's capacity to 2m teu.
After a six month design and tendering process, the first contracts were awarded to Jan De Nul and Saipem – construction contractors headquartered in Belgium and Italy respectively.
The expansion, which was approved by Panama's National Assembly earlier in 2015, is scheduled to become operational in the first half of 2017.
It involves the dredging and excavation of approximately 4m cu m of material, as well as the construction of an 800 m quay wall.
When fully operational, PSA Panama will be able to handle two mega ships simultaneously.
New container handling equipment to be added includes eight new super post-Panamax quay cranes plus 12 rail-mounted gantry yard cranes.
Enno Koll, head of Latin America for PSA, said: "Panama is a key node in the Latin America and plays an important role in facilitating and growing regional trade and commerce."
"PPIT's expansion gives shipping lines the peace of mind that there is enough capacity on the Pacific side of Panama for the foreseeable future and enables us to capitalize on the opportunities that the expanded Panama Canal brings," he added.
Located on the western bank of the Panama Canal's Pacific entrance, the current terminal opened for business in 2010 and currently offers 330 m of berth length and an annual capacity of 450,000 teu, served by three quay cranes and nine yard cranes.