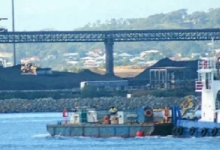 Posted on July 15, 2015
By Emma McBryde, The Observer
A NEW ports bill restricting capital dredging has drawn some criticism from green groups and the state's peak resources organisation.
While both sides support most of the Sustainable Ports Development Bill that Mines MinisterAnthony Lynham introduced to Queensland Parliament in June, they are pushing for changes to the proposed legislation.
The Queensland Resources Council has warned the bill will come at a cost to the state's economy.
READ FULL ARTICLE HERE