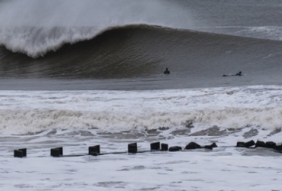 Posted on December 7, 2015
Efforts to settle a lawsuit brought by the owner of a popular beach
against New Jersey's plan to build protective sand dunes are making
progress, and a court hearing has been postponed to allow the talks to
continue.
In a filing made Nov. 20, U.S. Attorney Paul Fishman
told a federal court judge that settlement talks between Jenkinson's
beach, the state, the borough of Point Pleasant Beach and the U.S. Army
Corps of Engineers have been making progress.
Fishman noted that a
final settlement has not yet been reached, but the judge granted a
delay in the case until Dec. 23 to allow talks to continue.
Jenkinson's
sued last year, claiming the project would transform its privately
owned beach into a public one. The lawsuit seeks clarifications on just
what the government can do in its efforts to carry out the dune project
along the state's 127-mile coastline.
The state says its sole aim is to protect lives and property from future storms.
"We
are optimistic that the matter can resolved in a manner that achieves
all parties' legitimate objectives," said Jack Buonocore, an attorney
for Jenkinson's.
Gov. Chris Christie, a Republican presidential
candidate, began a push to erect dunes along the entire coastline after
parts of the Jersey shore with dunes fared much better during Superstorm
Sandy in 2012 than those that didn't. The work is being carried out by
the U.S. Army Corps of Engineers as part of a beach replenishment
project.
Buonocore said at the time the lawsuit was filed that the
documents the company is being asked to sign would give the state
Department of Environmental Protection ownership of what would become a
public beach. The state says it has no interest in changing the
privately owned character of the beach.
The case is only one of
several fronts on which the dune wars are being fought in New Jersey.
Margate is fighting the state's efforts to build dunes there, arguing
that its oceanfront bulkheads provide enough protection, and a judge is
expected to rule soon whether the city is entitled to another hearing to
challenge the dune project. In Bay Head, a group of oceanfront
homeowners who are among those that spent $5 million of their own money
on a protective rock wall are suing to be exempted from the state's dune
project.
Two weeks ago, the DEP said there were 283 easements still outstanding on the northern Ocean County peninsula.
The
state has filed eminent domain complaints seeking to seize strips of
disputed land in Margate, Long Beach Island and Brick, and plans
additional filings soon. The property owners would be compensated for
their land.