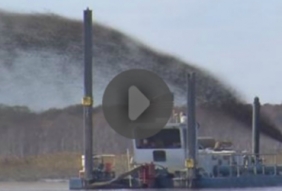 Posted on October 21, 2015
By Nicole Edenedo, WBOC
Time is almost up for Prime Hook National Wildlife Refuge officials to finish one phase of a major restoration project on the water.
U.S. Fish and Wildlife Service Project Leader Al Rizzo said the deadline mandated by Congress to dredge three water channels at Prime Hook is the end of October.
Restoration Project Manager Bart Wilson said the efforts are to restore parts of the marshes to its former glory before it was devastated by Hurricane Sandy in 2012.
"This is part of a really large Sandy resiliency project to restore Prime Hook National Wildlife Refuge to a more historic state of salt marsh and freshwater marshes, rather than the impoundments that it was for about 25 years," said Wilson.
READ FULL ARTICLE HERE