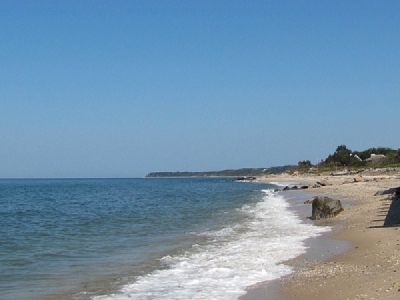 Posted on September 11, 2016
By Denise Civiletti, SoutholdLOCAL
The federal government is looking to spend more than $11 million to restore the beach at Hashamomuck Cove in Southold, but its commitment is conditioned on two things that won't be an easy sell.
First, there's the question of who's going to pick up the rest of the tab: an additional more than $6 million — not to mention the cost of an annual survey to detect future erosion and a 50-percent share of the cost of replenishment over a 50-year period.
Second, and perhaps even trickier to answer, is the question of providing public parking and public access to the replenished beach, which stretches along an 8,500-foot length of the L.I. Sound from the town beach to a point east of the Soundview.
The feds want a public access point and a public parking area every half-mile along the beach, town engineer Michael Collins told town board members at this morning's work session. He described that requirement as "non-negotiable."
"They broke the project into three sections, west central and east," Collins said. "For the portion on the west, that's easy. We already have a town beach there. We'd just need a permit system so nonresidents can buy a beach permit." On the east, the county "owns a couple of slivers of land…that in theory we can get a small public access and parking area there," Collins said.
The central portion is the "challenge," the engineer said. Providing public access and a parking area would mean buying a parcel from a private property owner, demolishing the house and making it into a parking area and access point, he said. Replacing a private residence with a public parking area and access point would impact the homeowner on either side, Collins said.
It would also be expensive. And, he noted, a willing landowner might not be found. Collins said he told the Army Corps of Engineers he wasn't sure the town would be willing to take property by eminent domain.
The proposal does not identify the "local sponsor" that would kick in the additional $6 million-plus.
That's going to be the biggest hurdle, Supervisor Scott Russell predicted. "It it the state, county or town?" said. "It's unrealistic at a town level. That's a lot of money for a tiny budget," he said.
The supervisor said he's suggested utility companies might be a local sponsor, since they have been investing a lot of money in system resiliency. They have a real interest in protecting County Road 48, he said.
He also suggested the town might look into a special taxing district so that landowners who would directly benefit from the replenishment project might contribute some portion of its cost.
"Also," Russell noted, "when the Army Corps talks public access, they mean everyone, not just town residents. "FEMA might not accept the town's nonresident permit arrangement, which costs $40 a day. They might say that's too onerous and not genuine public access."
The Army Corps of Engineers released its draft feasibility report for the project last month, as first reported by SoutholdLOCAL on Aug. 16. See story for details: "Feds propose $17.8 million beach nourishment project for Hashamomuck Cove."
According to Rep. Lee Zeldin, the public comment period on the report, originally set to conclude on Sept. 16, has been extended to Sept. 30.
Also a public hearing is slated for the evening of Monday, Sept. 19 at Southold Town Hall, Zeldin said. The time has not yet been been confirmed.
"We're going to a hearing and we'll see what happens from there," Russell said today.
A link to the feasibility report is posted on the homepage of the town website, in the "news and announcements section."
Comments on the proposal should be addressed to Ms. Judith Johnson, Project Biologist, New England District Corps of Engineers, 696 Virginia Road, Concord, MA 01742-2751, or by e-mail to: Judith.L.Johnson@usace.army.mil.
Source: SoutholdLOCAL