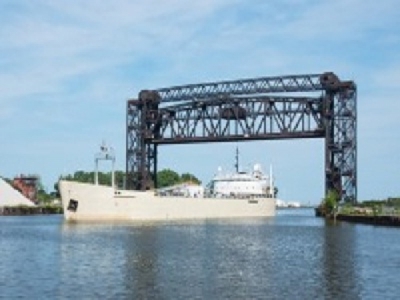 Posted on September 26, 2016
U.S. Sens. Rob Portman (R-OH) and Sherrod Brown (D-OH) highlighted provisions of the Senate-approved Water Resources Development Act (WRDA) on Thursday that would protect Cleveland from exposure to toxic sediment.
WRDA includes a provision that would preempt the U.S. Army Corps of Engineers (USACE) from determining that toxic material dredged from the Cuyahoga River could be dumped into Lake Erie unless it meets Ohio's water quality standards.
"The Cleveland Harbor project is vital to all of Ohio not only ecologically, but economically as well," Portman said. "This provision ensures dredged material will not harm either the city of Cleveland's water supply or Lake Erie's ecosystem. I will use every tool available to make sure our Great Lake is protected and urge my colleagues in the House to move quickly to get this to the president for signature."
In January, USACE requested $3.6 million less than the president's budget request to dredge Cleveland Harbor — an amount that would make it impossible to place dredged material safely upland.
At the time, Portman and Brown urged USACE to adhere to Ohio's water quality standards and to pay for the costs of disposing of the toxic sediment rather than dumping it into Lake Erie in a letter to USACE Assistant Secretary Jo-Ellen Darcy.
"Dredging of the Cuyahoga River is key to the Port of Cleveland's continued support for local businesses and jobs and we must ensure that all dredging activity protects Lake Erie," Brown said. "This provision will make it clear that the Corp must follow state water quality standards. This will help the Port of Cleveland and Ohio EPA keep toxic sediment out of the Lake and I urge the House to move quickly."
Source: The Ripon Advance