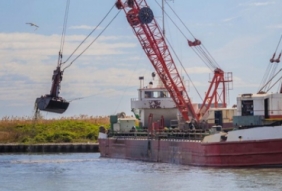 Posted on September 14, 2015
By Reed Fujii, Recordnet.com
Stockton port officials will consider Tuesday a $3.2 million dredging project that would complete deepening of Rough and Ready Island's waterfront, acquired in 2000 from the U.S. Navy, which had allowed much of it to accumulate silt over decades.
The port began deepening its newest ship berths shortly after taking over the former military base, with a goal to get the minimum depth to a full 35 feet, matching the adjacent Stockton Deep Water Channel.
But the sometimes controversial project has been slowed by environmental lawsuits and extensive design reviews. In addition, the work is expensive and complicated by the need to remove tons of sunken debris — cable, equipment parts, and other materials — apparently dumped by Navy personnel and visiting ships.
READ FULL ARTICLE HERE